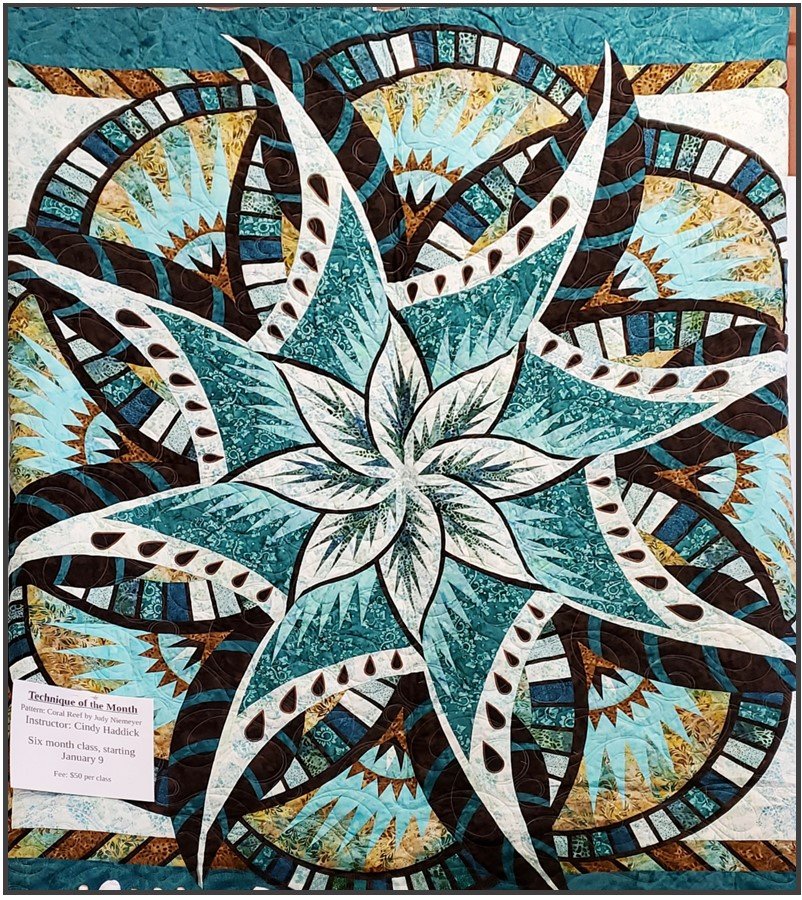 The anticipation has been high for the new 2021 Technique of the Month, CORAL REEF, from Quiltworx & Judy Niemeyer.

The Technique of the Month quilts, are exclusively available through Certified Instructors & the workshops they teach. We are thrilled to be hosting, Judy Niemeyer Certified Instructor, Cindy Haddick, for a great 5 part workshop starting Feb.
During these workshops, you will learn the tips & tricks to stay organized as you take on a challenging quilt like Coral Reef. With these tips & tricks you will be put at ease as you complete individual units, rather than be overwhelmed with the whole quilt. Cindy will share the techniques to get perfect ¼" curved seams, beautiful floating points & so much more. The key to this quilt is the assembly & the additional details that Cindy will share – it all will help you make this stunning quilt.
Cindy is willing to work with quilters of all skill levels. If you can work your sewing machine & a rotary cutter – come & join us!
Cindy is also available prior to the start of the class, to explain Quiltster (the online program used to "color" your personal quilt) and to assist you with fabric selection. She can be reached by text or phone (801) 608-1150 or email – cindysthreadsquilts@comcast.net
Click Here to download the Coral Reef Supply List

All Skill levels are welcome to join the class.

| | |
| --- | --- |
| Instructor: | Cindy Haddick - cindysthreadsquilts@comcast.net |