Skip Navigation
Website Accessibility
What does a hedgehog have to do with fabric?" That would be a direct quote from my wonderful mother, who, along with my awesome father, are supporting me in this wild notion of opening a fabric store.
Have you ever met a hedgehog? I have! They are not as cuddly as you might think. When they roll up they turn into a ball of pointy spines. What could be a better friend for a hedgehog then a pin cushion that loves sharp and pointy things?
That pretty much explains my love affair with fabric and color. By education and years of experience I'm a business systems analyst (yes, it's as mind numbing as it sounds). Now this slightly geeky computer person has decided it's time for some creativity in her life!
The transition from analyst to quilter isn't as strange as it might sound. My mom was a Home Ec teacher at Bountiful Jr High. I was sewing by the time I was 8. I even spent a few years working on a bachelor's degree in clothing and textiles; until I realized it was a really hard way to make a living. However it taught me a lot about clothing construction. I've used that knowledge to make prom dresses and wedding dresses while continuing my work as an analyst.
The final leap over the edge came when I realized I had 15 – 20 years left to work. That's time for an entirely new career and that's what I'm doing! I love clothing construction, so you'll definitely see some clothing going on in this quilt shop. I'll be happy to help you with your construction questions. Just know that I don't do mending or alterations; I always find something else to work on rather than taking on those 2 chores!
I'm so excited to pick up quilting, the really creative side of sewing. I love the opportunity for color and pattern combinations that can make each project a unique piece of art that's functional.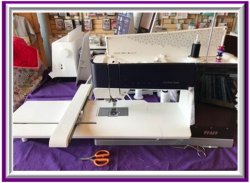 And to top it all off, I get to carry Pfaff sewing machines!! I first sewed on a Pfaff during my college days. I like the way it feeds fabric, even the newest sewer (or is that sewist?) can get her fabric pieces to come out even without having to do any tricks thanks to Pfaff's IDT technology.
But all of the fabric and all of the technology wouldn't be any fun without YOU! One thing I learned during my computer geek years is that people are wonderful and I enjoy working with them. I can't wait to share my latest fabric find and coolest tools with you. I want to know what you are working on and what I can do to help.
What fabrics do you like? What types of projects do you want to work on? Do you like bold colors? Or do you prefer quieter colors with maybe a more complex quilt design? Do you like block of the month clubs? Do you want to go on quilting retreats (if you haven't done one, you should try it!)? What challenges you about quilting? Are you brand new to sewing? Have you been sewing all your life? I can hardly wait to meet you!
As a final note, the hedgehog has a name. She's called Drewel.